Esterhazy torte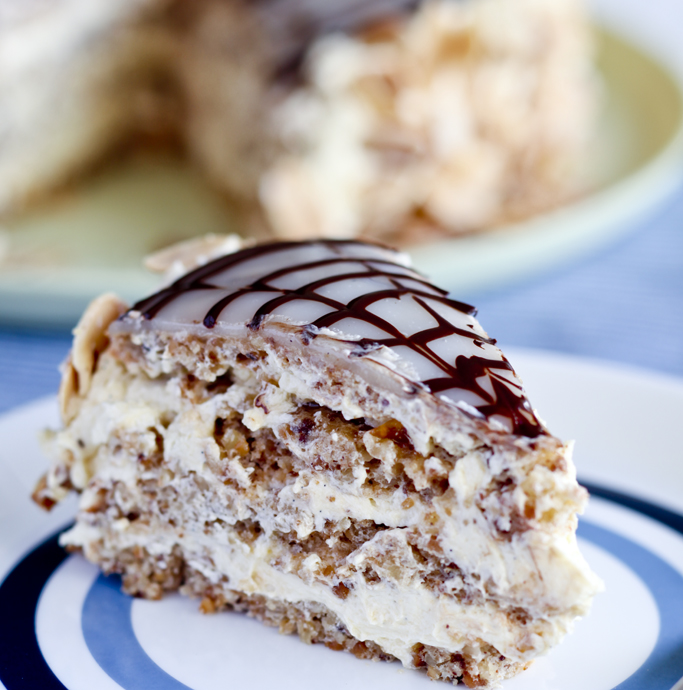 Nuts, vanilla and a light fruity flavour make this torte a favourite. It's named after Crown Prince Esterhazy, of Hungary, who was also a famous poet.
Ingredients
150g hazelnuts, toasted and skinned
150g blanched almonds
300g caster sugar
6 egg whites
½ tsp cream of tartar
1 cup milk
1 vanilla bean, seeds scraped
2 Tbsp cornflour
2 egg yolks
250g unsalted butter, softened
½ cup kirsch
½ cup apricot jam
1 cup pure icing sugar
1 Tbsp glucose syrup
50g dark chocolate, melted
¾ cup flaked almonds, toasted
Instructions
1 Preheat oven to 180°C. Combine the hazelnuts, almonds and 75g caster sugar in the bowl of a food processor and pulse until fine crumbs form.
2 Combine the egg whites and cream of tartar in the bowl of an electric mixer and whisk on high speed until soft peaks form. Add 125g caster sugar, 1 Tbsp at a time, and continue whisking until stiff peaks form. Fold in the nut mixture.
3 Pipe six 22cm discs on lined oven trays and bake for 18-20 minutes, until golden and firm to touch. Set aside to cool.
4 Whisk ½ cup milk, vanilla seeds, cornflour, yolks and remaining caster sugar into a medium saucepan and set over a moderate heat. Cook until thickened, then whisk in the remaining milk. Transfer to the bowl of an electric mixer and beat with the whisk attachment for 5 minutes, until cooled. Increase speed to high and add the butter 1 Tbsp at a time. Beat until smooth, then fold in 2 Tbsp kirsch.
5 Boil the apricot jam, then brush onto the cake discs. Set aside until firm. Assemble the layers with kirsch buttercream between, finishing with a cake disc.
6 Combine the icing sugar with 1 Tbsp water and glucose in a small saucepan and cook over a moderate heat until 92°C. Ladle over the cake top then drizzle the chocolate in a spiral pattern. Use a toothpick to create a feathered effect.
7 Press the flaked almonds onto the sides of the cake, then serve.