Doughnuts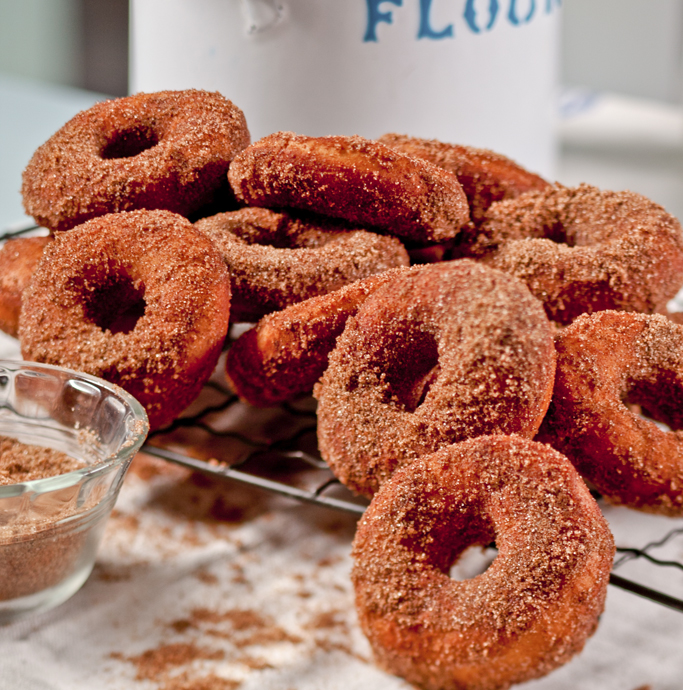 Cinnamon sweet doughnuts are always a favourite!
Ingredients
10g (1½ sachets) dried yeast
400g plain flour
45ml warm water
25g unsalted butter, melted
1 egg
220ml milk, warmed
45g caster sugar
3g fine salt
vegetable oil, for deep-frying
45g cinnamon sugar
Instructions
1 Combine the yeast, 2 Tbsp flour and the water in a large bowl and mix well. Set aside for 10 minutes until foamy. Add the butter, egg, milk, sugar, salt and remaining flour, then mix until a dough forms.
2 Turn the dough onto the bench and knead for 5 minutes, until smooth. Place in a lightly oiled large bowl and cover with cling film. Set aside to prove for 1 hour, until doubled in size.
3 Place the dough on a lightly-floured bench and flatten gently to form a rectangle 1½cm thick. Cut out circles with a 7m biscuit cutter, then use a 2cm cutter to make the central hole. Arrange on sheet of non-stick baking paper to rise for 20 minutes, until doubled.
4 Heat 10cm deep vegetable oil in a medium saucepan to 180°C. Fry the doughnuts in batches for 5 minutes, turning several times, until lightly golden, then drain on kitchen paper. Toss with cinnamon sugar and serve while warm.