Curried vegetable soup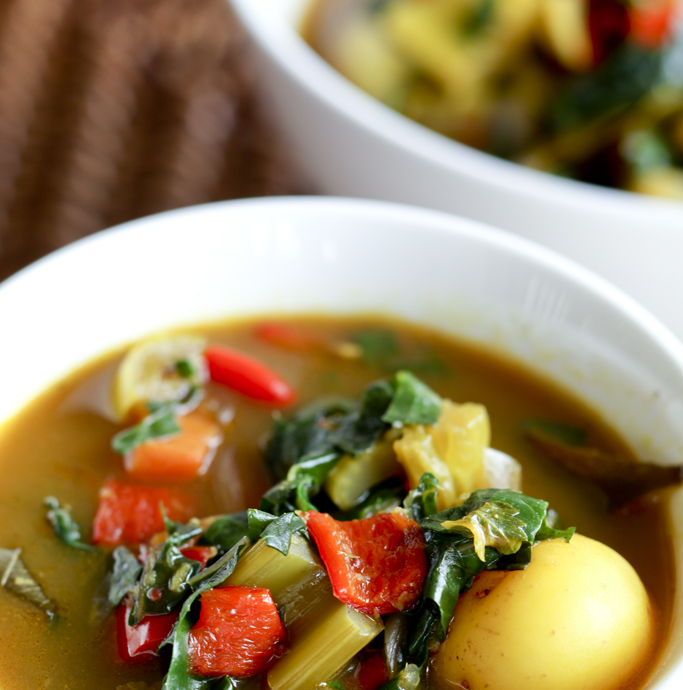 Full of vegetables and lightly spiced, this soup will warm you through winter.
Ingredients
2 red onions, sliced
2 red bullhorn capsicums, diced
2 Tbsp extra virgin olive oil
16 curry leaves
1 Tbsp brown mustard seeds
3 sticks celery, diced
4 cloves garlic, chopped
2 carrots, diced
2 yellow Hungarian capsicums, sliced
1 cup white wine
1L chicken stock
1 Tbsp curry powder
6 cardamom pods
1 green capsicum, diced
3cm piece ginger, grated
12 small potatoes
salt flakes and freshly-milled black pepper
½ bunch silverbeet, shredded
Instructions
1 Sauté the onions and capsicums in olive oil in a large saucepan set over a moderate heat for 5 minutes, until softened. Add the curry leaves and mustard seeds, then cook until the seeds begin to pop.
2 Mix in the celery, garlic, carrots and Hungarian capsicums, then sauté for 5 minutes, until the mixture begins to stick to the bottom of the saucepan. Add the wine, bring to a boil, then turn the heat to low and pour in the stock.
3 Add the curry powder, cardamom pods, green capsicums, ginger and potatoes then simmer for 40 minutes, until the potatoes are tender. Season with salt and pepper, stir in the silverbeet and serve.