Crab Risotto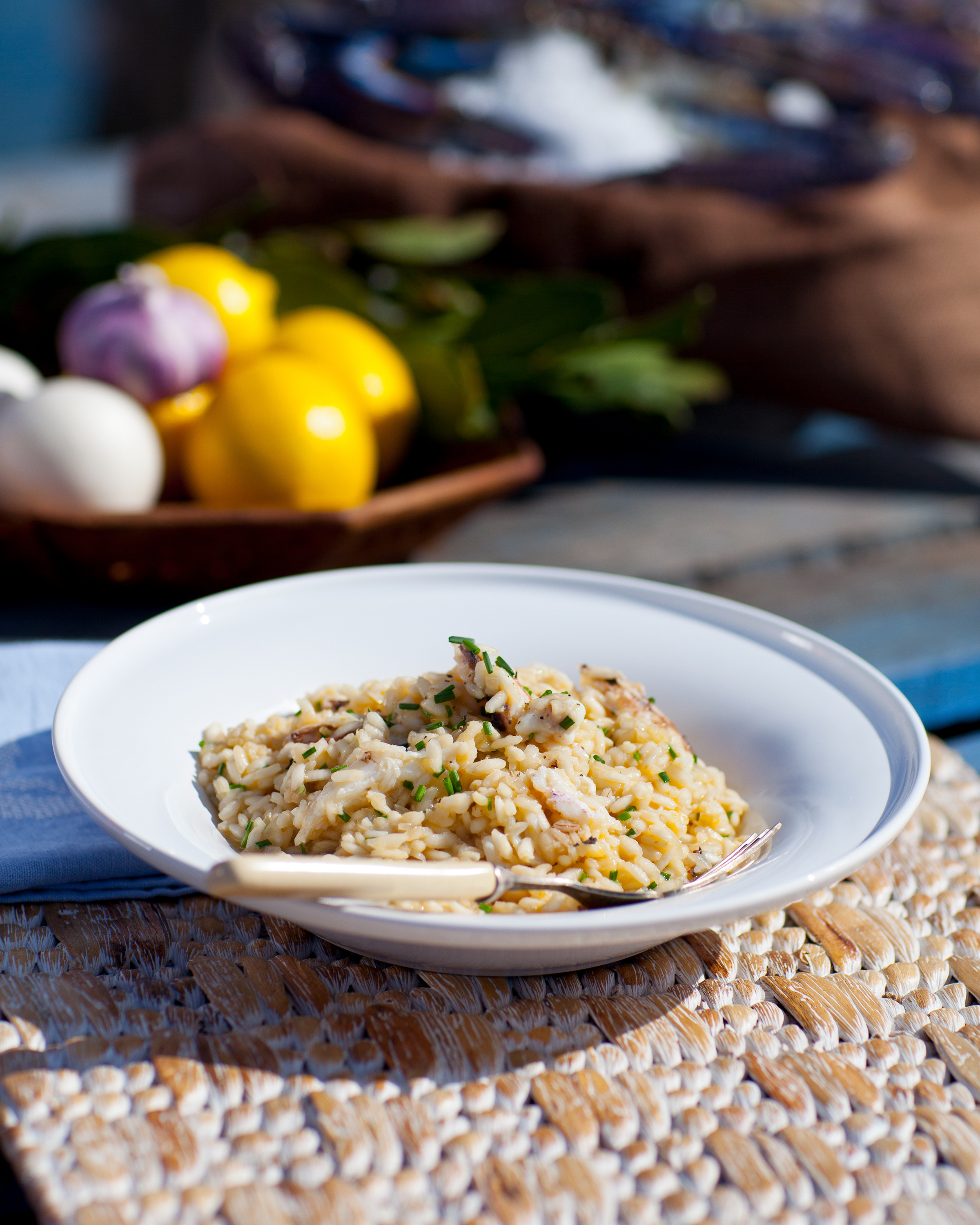 Most recipes tell you to stir risotto constantly, but this is a bad idea. During the first three-quarters of cooking, you should only stir occasionally to keep the grains whole and unbroken. Then, to finish, beat well to give it a smooth and creamy texture.
Ingredients
2 Tbsp fine salt
1 blue swimmer crab
3 cups chicken stock
1 white onion, finely diced
3 cloves garlic, minced
2 fresh bay leaves
finely-grated zest and juice of 1 lemon
2 Tbsp extra virgin olive oil
1 cup Arborio rice
2 tsp fish sauce
salt flakes and freshly-milled black pepper
2 Tbsp unsalted butter
½ bunch chives, finely snipped
Instructions
1 Put the fine salt in a large saucepan filled with hot water and bring to a boil. Cook the crab for 7 minutes, then scoop out and chill in iced water. Reserve 3 cups of the cooking water. Crack the crab and extract the meat, set the meat aside, and reserve the shell.
2 Combine the reserved cooking water, shell and chicken stock in a saucepan and set over a moderate heat. Simmer for 15 minutes, to yield 3½ cups. Strain and set aside.
3 Sauté the onion, garlic, bay leaves and lemon zest in half the olive oil for 3 minutes, until aromatic, then set aside. Fry the rice in the remaining olive oil for 3 minutes until aromatic and lightly golden.
4 Pour in the fish sauce and ⅓ of the stock and bring to a simmer. Once absorbed, add another third of the stock and simmer without stirring. Shake the pan, then add the remaining stock and simmer again with out stirring.
5 Season with salt and pepper and stir in the butter, chives and crab meat, then serve.