Cocoa-crusted raspberry souffle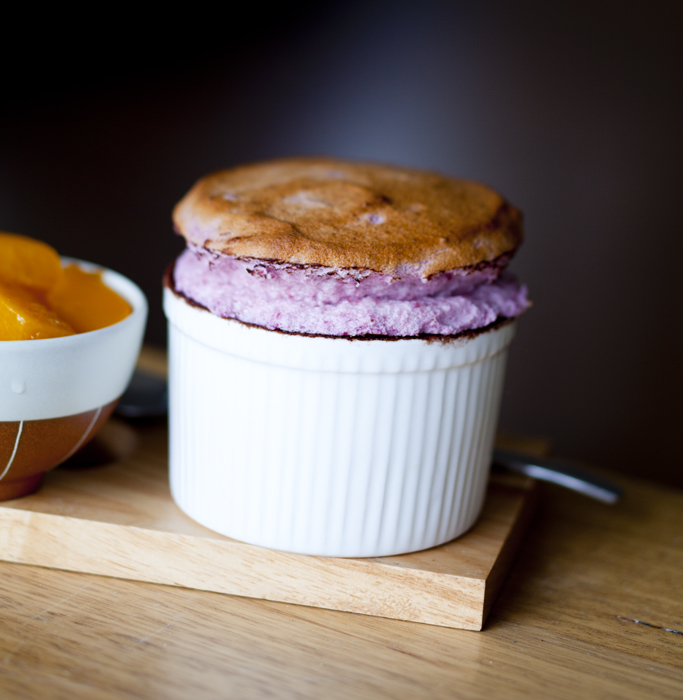 Who doesn't love souffle? Dusting your ramekins with cocoa powder makes this souffle extra special!
Ingredients
300g frozen raspberries
100ml water
3 egg yolks
180g caster sugar
20g cornflour
20g plain flour
30g melted butter
10g dark cocoa powder
7 egg whites
double cream, to serve
Instructions
1 Preheat oven to 190°C. Combine the raspberries and water in a small saucepan and set over a low heat. Cook for 15 minutes, until tender, then purée until smooth.
2 Whisk the yolks and 30g caster sugar until very light, then beat in the flours and raspberry purée. Cook in a saucepan over a moderate heat for 3 minutes, until thickened, then cover with cling film and set aside to cool.
3 Brush the inside of four 1-cup ramekins with butter, then chill briefly. Butter again, then dust with a mixture of 30g sugar and the cocoa powder.
4 Whisk the egg whites and cream of tartar until foamy, then continue whisking, adding the sugar 1 Tbsp at a time, until soft peaks form.
5 Mix 1/3 of the meringue into the raspberry mixture to lighten, then gently fold in the remainder. Spoon into the ramekins, then tap firmly once. Bake on a preheated tray or tile for 10 minutes until risen. Serve immediately with double cream.