Chocolate kuglof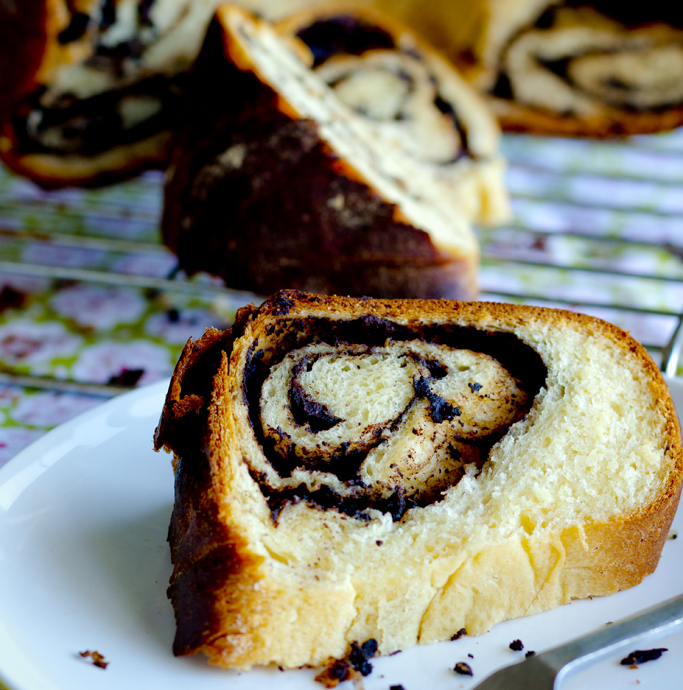 Strangely enough the world's epicentre of Jewish baking is not Israel, but New York. From blintzes to bagels, challah to kuglof and loads of rich, buttery sweet treats in between. When it comes to a chocolatey fix though, nothing beats the East European kuglof.
Ingredients
¾ cup milk
1 sachet (7g) dried yeast
3 cups (450g) bakers flour
3 eggs
1 tsp natural vanilla extract
½ cup (110g) caster sugar
½ tsp fine salt
200g unsalted butter, softened
¼ cup cocoa powder
2 Tbsp Grand Marnier
½ cup cinnamon sugar
100g dark chocolate, chopped
Instructions
1 Preheat oven to 190°C. Warm ¼ cup of milk to blood temperature, then whisk in the yeast and ¼ cup flour. Set aside for 10 minutes, until foamy. Whisk the remaining milk, eggs and vanilla together.
2 Place the remaining flour, 75g sugar and slat in the bowl of an electric mixer and mix on low speed with the hook attachment. Add the milk mixture in a steady stream and beat until just combined, Then add 125g butter 1 Tbsp at a time, until the dough becomes glossy. Increase to medium speed and beat for 10 minutes, until smooth.
3 Transfer the dough to an oiled bowl and cover with cling film. Set aside for 1½ hours, until doubled in size. Meanwhile melt the remaining butter and sugar, then stir in the cocoa and rand Marnier. Mix until smooth, then set aside to cool.
4 Knock back the dough, then roll out to a large rectangle 25cm x 75cm, about ½cm thick. Spread with the cocoa mixture, then sprinkle with the cinnamon sugar. Roll up, then coil into a well-buttered kuglof mould. Cover with cling film and set aside to rise for 1 hour.
5 Bake for 35-40 minutes until deep-golden and with a slightly hollow sound when tapped. Cool in the mould for 15 minutes, then invert onto a wire rack and remove from the mould to finish cooling. Cool before slicing.