Chipotle-scented steamed mulloway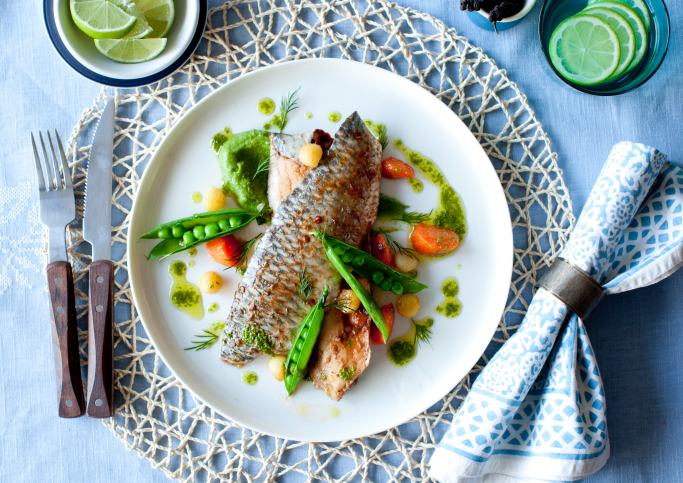 Seafood is so god at this time of the year that it is impossible to refuse. This lightly-spiced recipe is so delicious and so healthy that it makes for a perfect early Spring meal.
Ingredients
2 chipotle chillies in adobo sauce
½ cup extra virgin olive oil
finely grated zest and juice of 1 lime
salt flakes and freshly-milled black pepper
4 plate-sized mulloway (Jewfish), filleted and pin-boned
3 medium potatoes
1½ cups frozen peas
1 tsp ground cumin
½ bunch mint leaves
½ bunch parsley leaves
2 Tbsp unsalted butter
1 cup chicken stock
2 Tbsp honey
2 medium carrots, chopped
dill sprigs, pea pods and herb oil, to serve
Instructions
1. Purée the chipotle chillies with half the olive oil, lime zest and juice until smooth, then season with salt and pepper. Rub onto the fish, then cover with cling film and refrigerate for 2 hours to marinate.
2. Peel and chop one potato and steam until tender, then set aside. Steam the peas until tender, then combine with the potato, cumin, mint and parsley and purée with the remaining olive oil. Season lightly with salt.
3. Ball the remaining potatoes and blanch until just tender. Blanch the carrots until tender. oil the better, stock and honey until thickened, then add the potatoes and carts and cook until glazed.
4. Steam the fish in a basket over a saucepan of simmering water for 12 minutes, until just cooked. Serve on the pea purée and vegetables, garnished with dill, pea pods and herb oil.