Chipotle beef with rice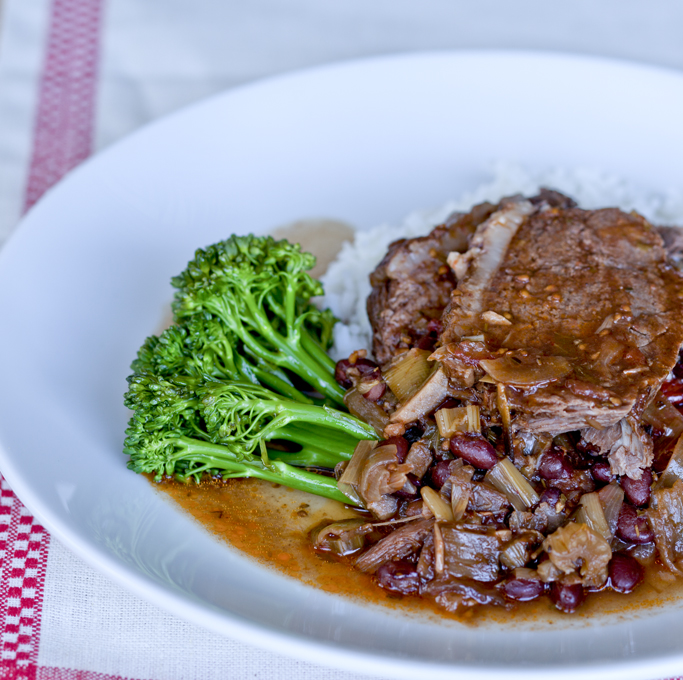 I can't imagine a world without chilli. Ask anyone who knows me well and they'll tell you it's often on my plate! Disaster Bay Chipotle Chilli Sauce is my favourite. Spicy and rich, it's the star of this dish. Chilli, beef, beans, broccolini and rice - perfect winter-time comfort food.
Ingredients
1 brown onions, finely sliced
1 stick celery, sliced
4 cloves garlic, finely sliced
2 Tbsp extra virgin olive oil
600g piece beef brisket
2 tsp ground cumin
1 tsp fennel seeds
1 sprig rosemary
400g can diced tomatoes
1 cup beef stock
½ cup Disaster Bay Chipotle Chilli Sauce
salt flakes and freshly-milled black pepper
400g can black beans, rinsed and drained
rice and broccolini, to serve
Instructions
1 Set a large saucepan over a moderate heat and sauté the onion, celery and garlic in olive oil for 10 minutes, until lightly browned. Add the beef and spices and fry for 5 minutes, turning several times, until seared.
2 Add the rosemary, tomatoes, stock and Chipotle Chilli Sauce, then season with salt and pepper. Mix in the black beans then cover with a lid and simmer for 2-3 hours, topping up with water as necessary, then carve and serve with rice and broccolini.