Chilaquiles: Campfire Tostadas with Eggs and Spicy Tomato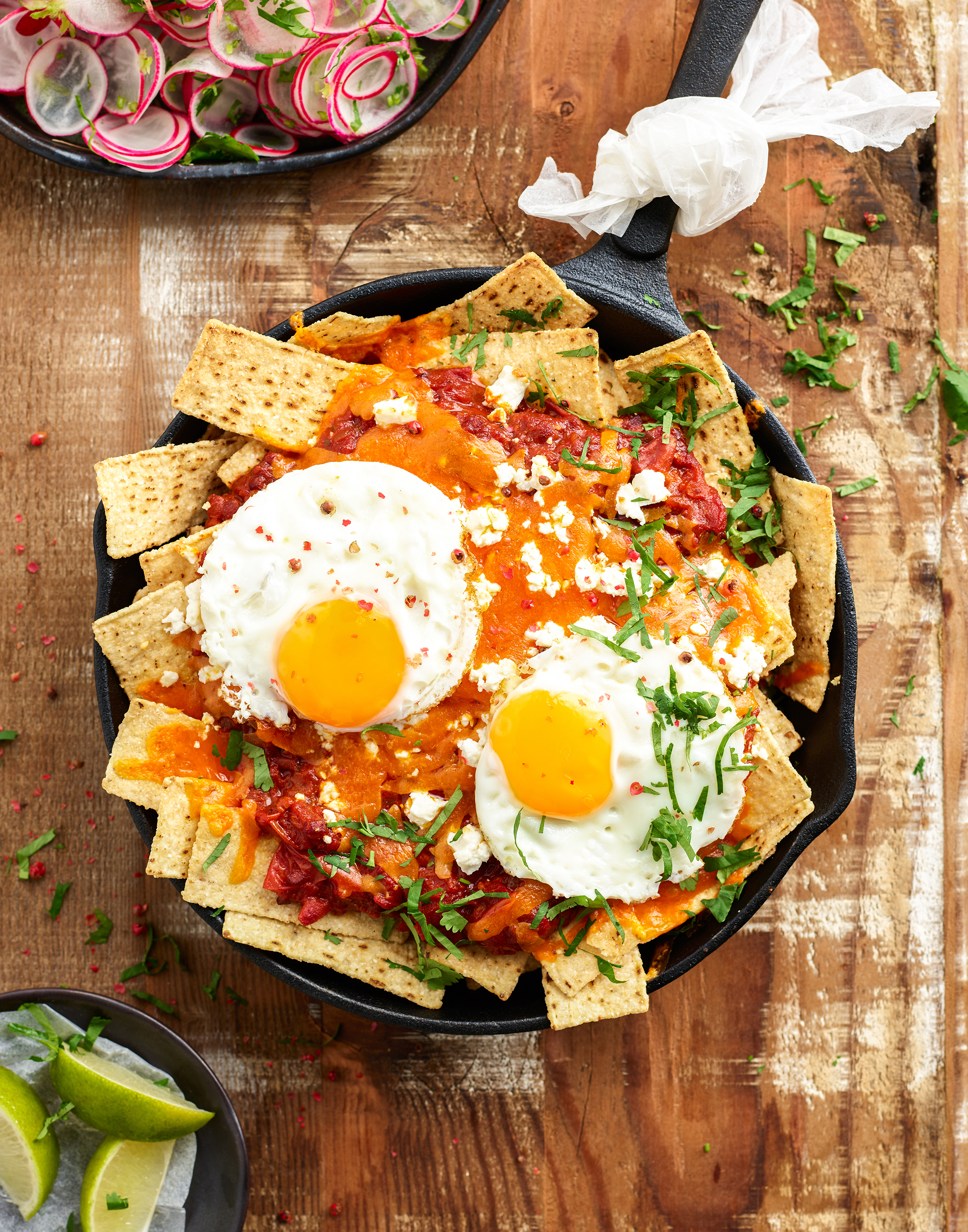 The great thing about Chilaquiles is that they're perfect any time of the day.
Ingredients
4 dried pasilla chillies, seeded and stemmed
2 chorizo sausages, finely diced
1 brown onion, finely diced
8 cloves garlic, minced
2 Tbsp extra virgin olive oil
1 long green chilli, finely diced
1 Tbsp smoked paprika
2 tsp ground cumin
1 tsp ground coriander seed
2 x 400g can cherry tomatoes
juice of 2 limes
1 Tbsp honey
sea salt flakes and freshly-ground black pepper
4 cups plain tortilla chips
1 cup queso freco, crumbled*
1 cup red Leicester cheese, grated
8 eggs
radish salsa and lime wedges, to serve
Instructions
1 Soak the dried pasilla chillies in warm water for 5 minutes then drain and chop finely. Sauté the chorizo, onion and garlic in extra virgin olive oil in a saucepan over a moderate heat for 5 minutes, until softened. Mix in the green chilli, pasilla chillies and spices, then cook for 2 minutes.
2 Mix in the tomatoes, lime juice and honey, then season generously with salt and pepper. Simmer for 20 minutes, until thickened.
3 Arrange the tortillas in individual skillets, top with tomato sauce, scatter with cheeses, then bake for 3 minutes until the cheese is melted. Meanwhile, fry the eggs until sunny side up, then place on top. Serve with radish salsa and lime wedges.
*If unavailable, use feta instead