Chicken with mushrooms and riesling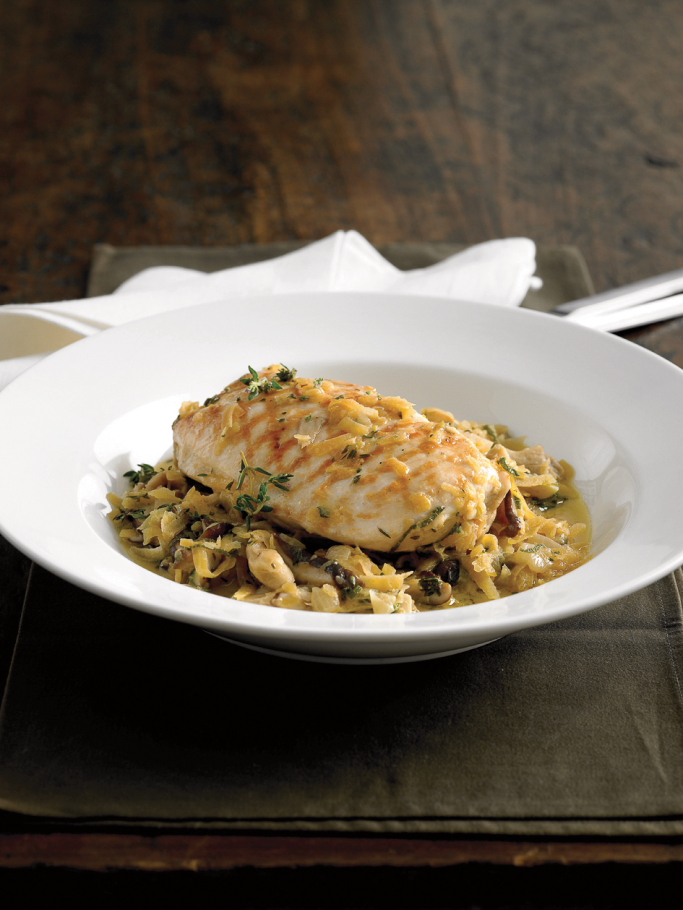 Mushrooms are the perfect food for Autumn, or any time of the year. Paired with chicken and great white wine, you've got a delicious and healthy meal that can't be beaten.
Ingredients
4 x 180g skinless chicken breasts
salt flakes and freshly-milled black pepper
cooking oil spray
1 brown onion, finely diced
2 Tbsp unsalted butter
2 cloves garlic, minced
1 turnip, grated
1 punnet shiitake mushrooms, sliced
1 punnet shimeji mushrooms, separated
6 cup mushrooms, sliced
1 bunch thyme, chopped
1 tsp honey
250ml Riesling
100ml thickened cream
¼ tsp ground nutmeg
Instructions
1 Season the chicken breasts with salt and pepper and spray with cooking oil. Arrange on the hot ribbed griddle and cook for 2 minutes each side. Sauté the onion in butter in the frying pan for 2 minutes, then add the garlic and cook for one more minute.
2 Mix in the turnip and chicken breasts, then add the mushrooms and thyme.
3 Pour in the honey and wine and season with salt and pepper, then add the cream and simmer until the chicken is cooked. Add the nutmeg, then carve and serve.