Caramel-custard macadamia slice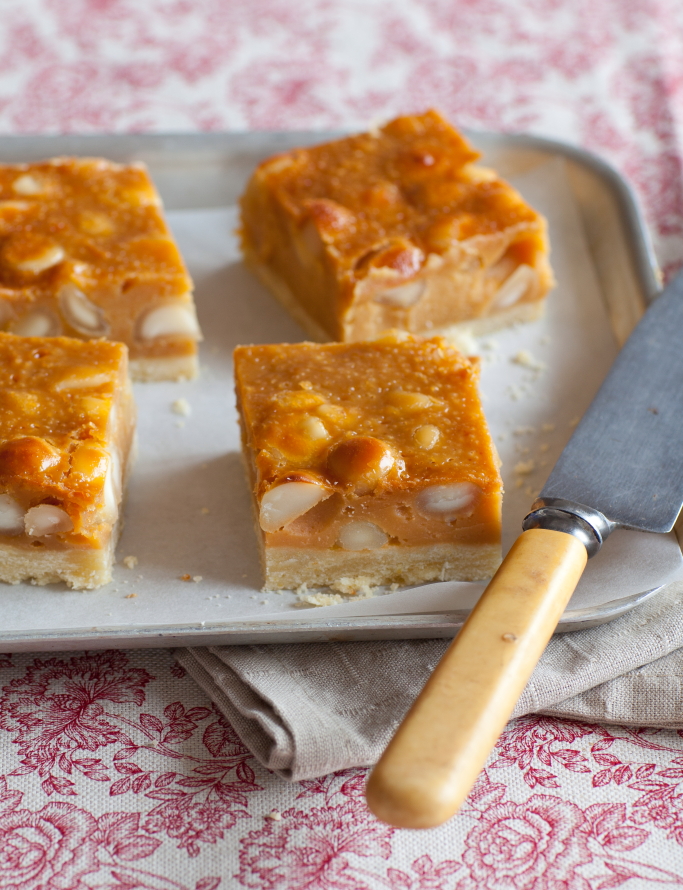 It's everything you want from a slice, and then some. First you get a sweet, lemony, nutty hit, then the rich milky, caramel tang - just perfect for mooring tea or and afternoon pick-me-up.
Ingredients
290g plain flour
80g icing sugar, sifted
210g cold unsalted butter, cubed
finely grated zest of 2 lemons
60ml milk
395g can sweetened condensed milk
2 tsp natural vanilla extract
¾ cup golden syrup
5 eggs, beaten
300ml thickened cream
300g macadamias
Instructions
1 Preheat oven to 180°C. Combine 250g plain flour with the icing sugar, 120g butter and the lemon zest in the bowl of a food processor, then pulse until a coarse crumb forms. Add the milk and pulse again to form a dough. Press into the base of a lined 20cm x 30cm slice pan and bake for 15 minutes, until golden. Remove from the oven.
2 Pour the sweetened condensed milk into a medium saucepan with the remaining butter, vanilla and golden syrup, then set over a moderate heat. Bring to a boil, then simmer for 5 minutes, until lightly golden and beginning to thicken. Remove from the heat.
3 Whisk the eggs, cream, and remaining flour into the saucepan until smooth, then fold in the macadamias. Bake for 30-35 minutes, until deep golden and just set. Cool completely on a wire rack, then slice and serve.