Caicucco: livornese fish stew with garlic and salsa verde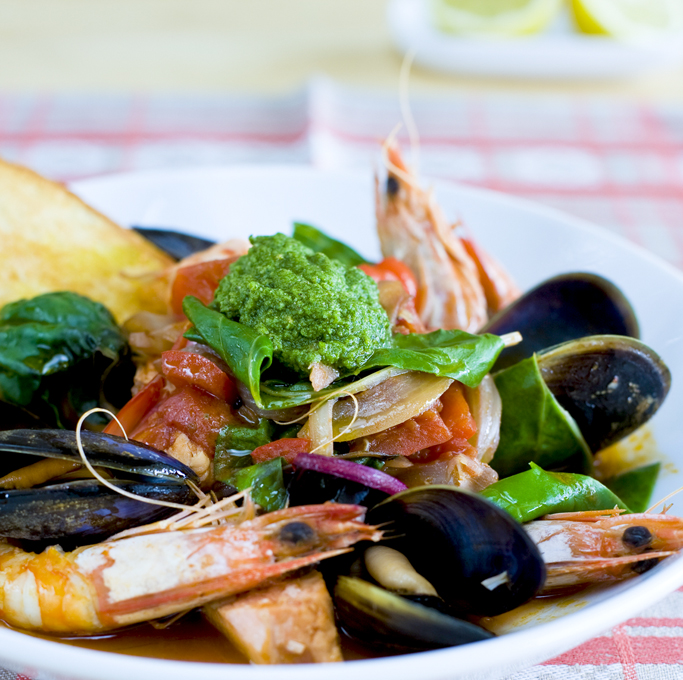 This is a great way to use ocean trout, fresh herbs and fennel give it extra depth.
Ingredients
1 brown onion, sliced
1 head baby fennel, sliced
4 garlic cloves, sliced
2 bay leaves
½ cup extra virgin olive oil
½ cup red wine
500ml chicken stock
1 x 400g can diced tomatoes
12 mussels
12 prawns, peeled
400g ocean trout fillet, diced
salt and pepper
1 bunch parsley
½ bunch mint
2 tsp capers
6 anchovies
4 thick slices bread
Instructions
1 Set a large heavy saucepan over a high heat and sauté the onion, fennel, garlic and bay leaves in a little olive oil for 4 minutes, until tender.
2 Add the red wine, stock and tomatoes, and bring to a high simmer.
3 Mix in the seafood and cook until the mussels have opened. Season with salt and pepper.
4 Puree the parsley, mint, capers, anchovies and remaining olive oil, and season lightly. Serve the stew in bowls over a slice of bread and garnish with salsa verde.