Buttermilk fried chicken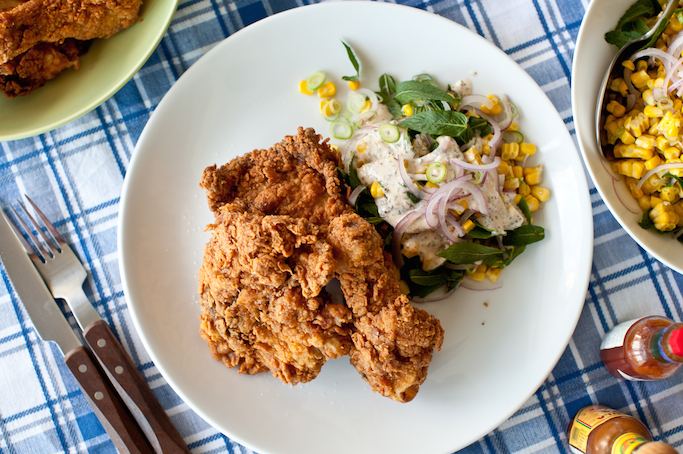 If you're planning a garden party to make the most of this spectacular Spring weather, a plate or two of perfect Southern-style fried chicken should always be on the menu - crunchy, juicy and totally delicious.
Ingredients
1.5kg chicken, chopped into 10 pieces
600ml buttermilk
3 cups plain flour
1 Tbsp mild paprika
2 tsp smoked paprika
2 tsp ground cumin
1 tsp ground coriander seed
1 tsp celery seeds
½ tsp ground cloves
1 tsp cayenne pepper
1 Tbsp fine salt
2 tsp ground pepper
vegetable oil, for frying
corn salsa and rice, to serve
Instructions
1 Preheat oven to 180°C. Combine the chicken pieces and buttermilk in a large bowl and toss well, then cover with cling film and refrigerate for 2 hours.
2 Mix the flour, spices, salt and pepper in a large ziplock bag, then drain the chicken and place in the bag. Shake well to coat, then remove the excess flour and fry in hot (180°C) vegetable oil for 10 minutes, until crunchy, then transfer to a wire rack over a baking sheet and bake for 20 minutes, until cooked through. Serve with corn salsa and rice.