Brown rice sushi rolls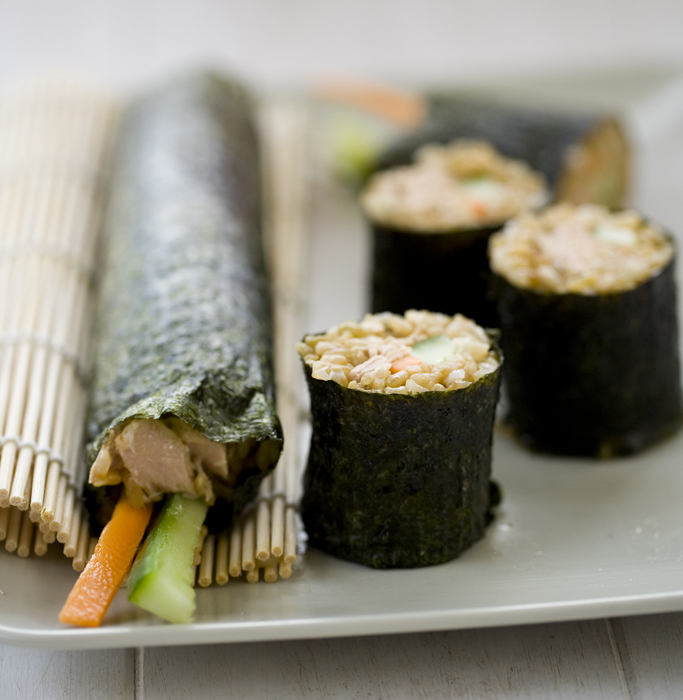 Making your own sushi is a great way to get some cooking time in with the kids.
Ingredients
¾ cup water
2 tsp soy sauce
2 Tbsp rice wine vinegar
2 sheets nori seaweed
½ Lebanese cucumber
¼ carrot, peeled
¼ cup canned tuna, drained
soy sauce, to serve
Instructions
1 Do not rinse the rice. Combine with the water and 1 tsp soy sauce in a small saucepan and set over a medium heat. Bring to a boil, then cover with a lid and turn the heat to low. Cook gently for 20 minutes, then set aside for 20 minutes.
2 Stir the remaining soy sauce and rice wine vinegar into the cooked rice. Place a seaweed sheet on a bamboo sushi mat and press a thin layer of rice on top, leaving a 2cm margin at one end.
3 Cut the cucumber and carrot into matchsticks an arrange some along the leading edge, then place some tuna on top. Roll up tightly using the bamboo mat to lift and turn. Damp the uncovered margin then seal well. Slice into rounds. Continue until all the ingredients and used up.