Broccoli and watercress soup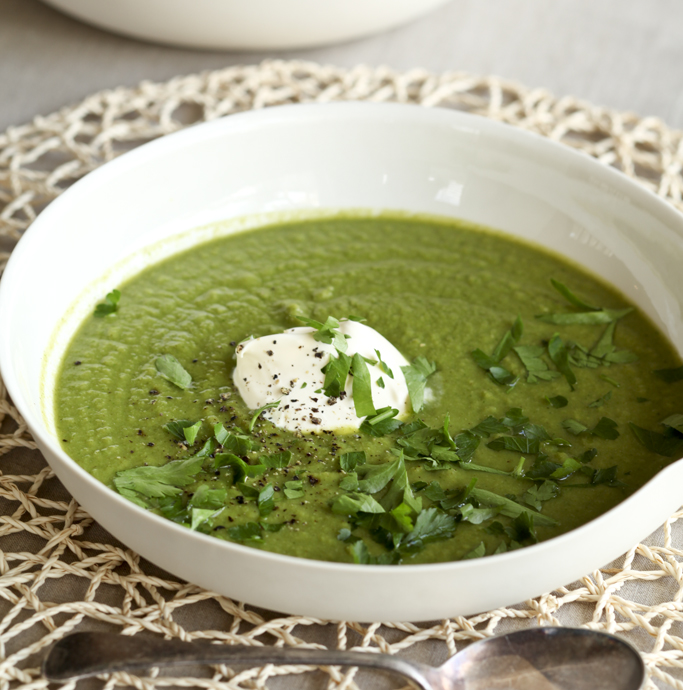 Broccoli and watercress come together in a bowl of healthy deliciousness, lightly flavoured with garlic, thyme and bay leaves.
Ingredients
1 leek, finely diced
2 sticks celery, finely diced
4 cloves garlic, finely sliced
½ bunch thyme, finely chopped
2 bay leaves
2 Tbsp unsalted butter
1 cup white wine
1L vegetable stock
2 head broccoli, chopped
1 bunch watercress
1 bunch basil
salt flakes and freshly-milled black pepper
chopped parsley and sour cream, to serve
Instructions
1 Saute the leek, celery, garlic, thyme and bay leaves in butter in a large saucepan over a moderate heat for 5 minutes, until softened. Pour in the wine, simmer briefly, then add the stock and bring to a boil.
2 Add the broccoli and cook until just tender, then place the saucepan in a sink of iced water to chill rapidly in order to avoid browning.
3 Blanch the watercress and basil in a saucepan of boiling water, then refresh in iced water. Add to the soup, remove the bay leaves, then purée until very smooth. Season with salt and pepper, then gently re-warm and serve wih parsley and sour cream.