Breakfast burrito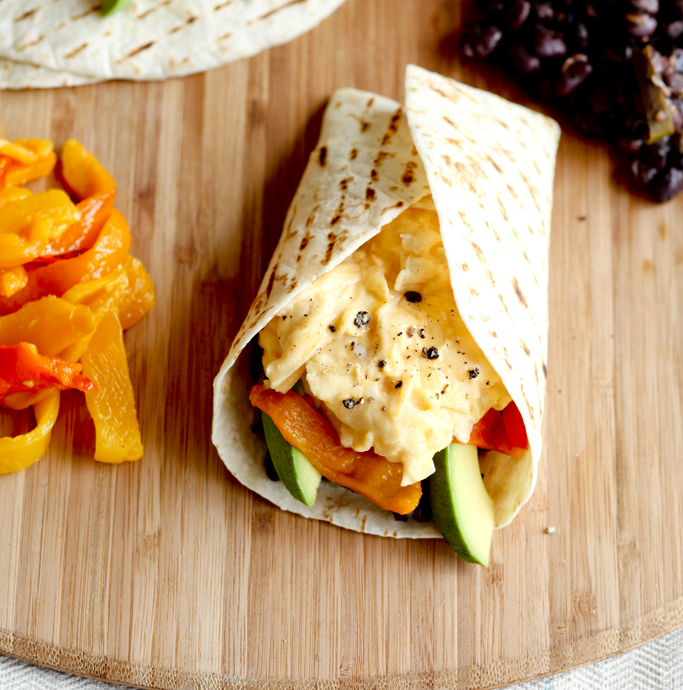 It's not for everyone, but I can't get enough chilli in the mornings! This burrito is a great mix of veg, eggs and tonnes of flavour.
Ingredients
400g can black beans
300ml water
1 Tbsp pickled jalapeno chillies
½ tsp ground cumin
½ tsp dried oregano
1 clove garlic, minced
salt flakes and freshly-milled black pepper
9 eggs
100ml cream
2 Tbsp unsalted butter, chopped
6 large tortillas
2 avocadoes, peeled and cut into wedges
½ cup roasted capsicums, cut into strips
cucumber and onions salsa, to serve
Instructions
1 Combine the beans (with the liquid), water, chillies, cumin, oregano and garlic in a small saucepan and set over a moderate heat. Cook for 20 minutes, until the beans are softened. And the mixture thickens. Season with salt and pepper
2 Whisk the eggs, cream and butter in a large bowl then season with salt and pepper. Cook in a large frying pan over a low heat for 5 minutes, stirring often with a heatproof spatula, until just set.
3 Toast the tortillas until lightly browned, then spoon the beans, scrambled eggs, avocadoes and capsicums on top. Wrap up and serve with the cucumber and onion salsa.