Borukovy kolac (blueberry and poppy seed squares)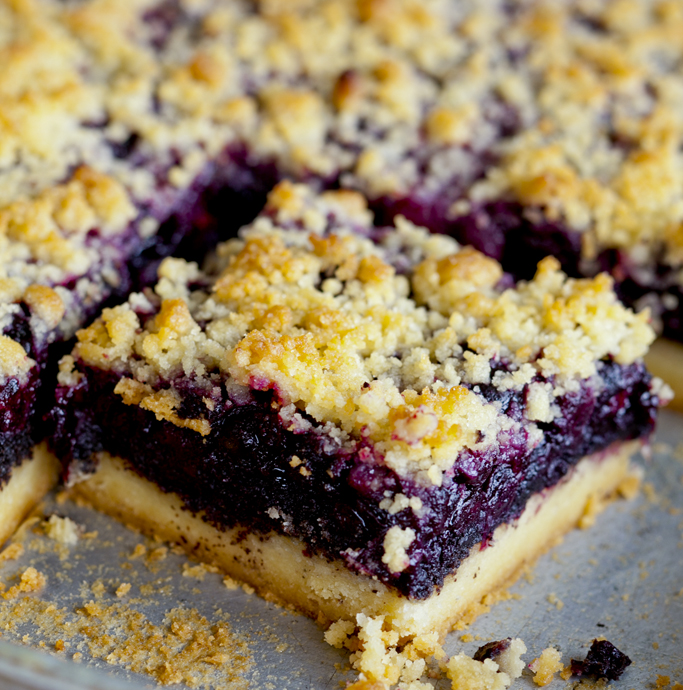 The perfect combination of blueberry, poppyseeds, and cinnamon. A cup of tea is necessary!
Ingredients
300g unsalted butter, softened
1½ cups caster sugar
3 cups plain flour
½ tsp fine salt
1 tsp natural vanilla extract
4 cups fresh blueberries
juice of 1 lemon
¾ tsp ground cinnamon
1 ½ cups ground poppy seeds
½ cup double cream
Instructions
1 Preheat oven to 180°C. Combine 250g unsalted butter with ½ cup caster sugar in the bowl of an electric mixer and beat with the paddle attachment on medium speed for 5 minutes, until light and creamy. Add 2 ½ cups flour, and fold in gently, mixing until a dough just forms.
2 Press the dough into the base and sides of a buttered and floured 22cm x 30cm slice pan. Place in the freezer for 1 hour, then bake from frozen for 15-18 minutes, until browned, then set aside to cool.
3 Combine the remaining butter, flour, salt, vanilla and ¼ cup sugar in a large bowl, and rub together until a crumb forms. Set aside.
4 Mix the remaining sugar in a medium saucepan with 3 cups blueberries and set over a moderate heat. Cook until the berries burst, then remove from the heat and stir in the remaining berries. Mix the poppy seeds and cream and spread over the baked crust.
5 Pour the blueberry mixture over the poppy seed layer, then finish with the crumble. Bake for 40 minutes, until golden and bubbling, then cool in the tin.