Bomboloni with Choc-Nutella Filling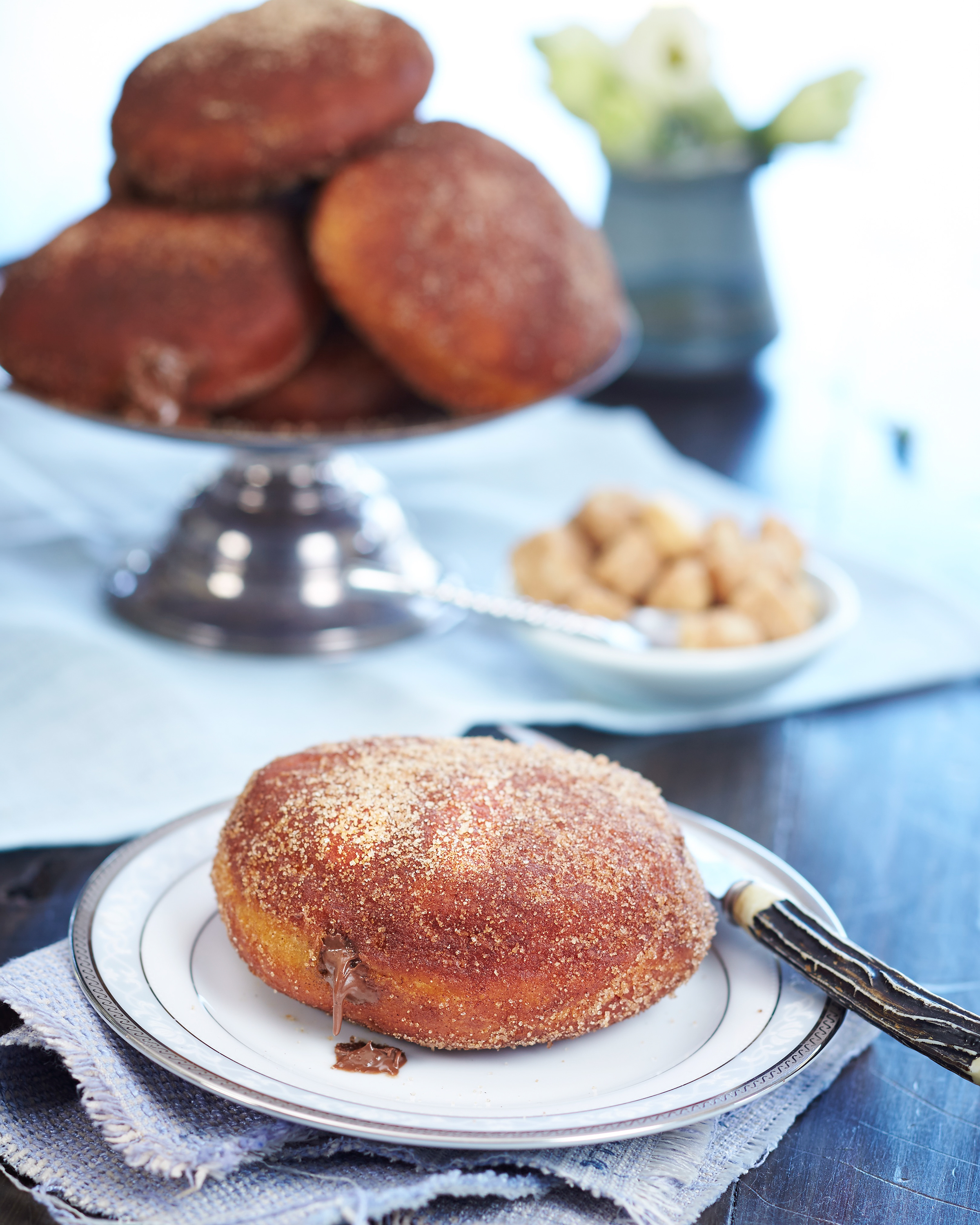 The best example of what a 'doughnut' can be is found in Tuscany, where bomboloni are sold in every bar and pasticceria, in myriad flavours. While there's a couple of steps involved, anyone can easily master this recipe at home.
Ingredients
2 x 7g sachets dried yeast
250g bread flour
250g plain flour
50g caster sugar
2 tsp vanilla paste
1 cup milk
3 eggs
1 yolk
65g unsalted butter, softened
Canola oil spray
Vegetable oil for deep-frying
1 cup cinnamon sugar
1½ cups Nutella
Instructions
1 Combine the yeast in a small bowl with 1 Tbsp bakers flour and 2 Tbsp water. Mix well, then set aside for 10 minutes, until foamy.
2 Place in the bowl of an electric mixer with the flours, sugar and vanilla and mix gently with the dough hook attachment. While mixing, add the milk, eggs, yolk and butter, then beat for 12 minutes, until very smooth. Transfer to a lightly-oiled bowl, cover with cling film, then set aside for 1 hour, until doubled in size.
3 Turn out onto a lightly-floured board and flatten to 1½cm thick. Cut 7cm discs and place each onto a square of baking paper. Cover lightly with cling film then set aside to rise for 40 minutes.
4 Fry in hot (180°C) vegetable oil for 2 minutes each side, until deep golden, then drain very well on kitchen paper. Toss in cinnamon sugar. Make a small incision on one side of each, then while still hot., load the Nutella into a piping back fitted with a 1cm nozzle and pipe into each bomboloni until it feels a little heavy. Set aside for 5 minutes, before serving.