Beef and Rice Enchiladas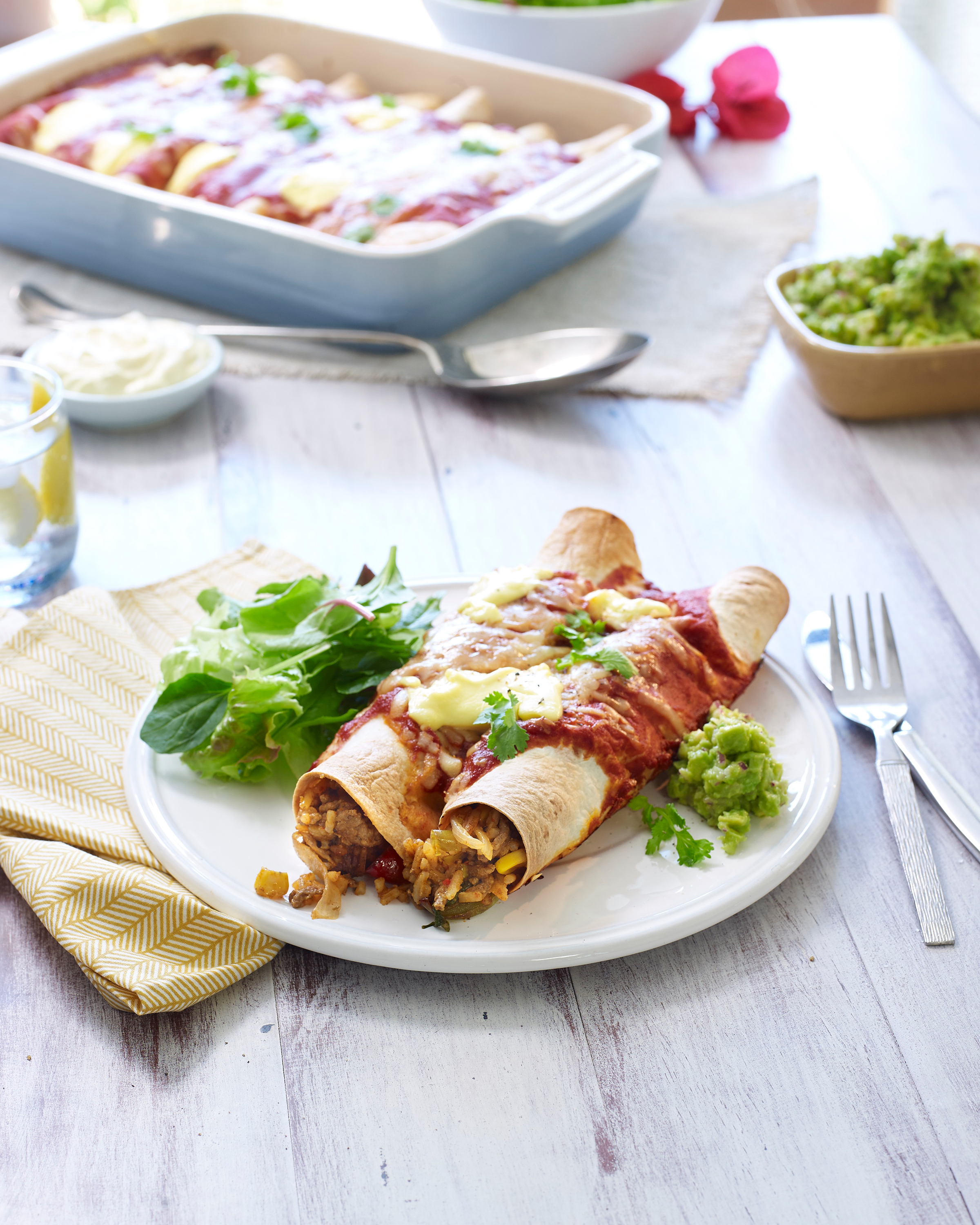 Beef and rice enchiladas - on the table for just a couple of dollars per person. Now that's smart cooking.
Ingredients
300g beef mince
2 Tbsp vegetable oil
4 cloves garlic, minced
2 tsp smoked paprika
2 tsp ground cumin
2 tsp dried oregano
1 cup long grain rice
2 cups hot chicken stock
1 red capsicum, cut into strips
1 green capsicum, cut into strips
½ red onion, sliced
1 cup corn kernels
1 bunch coriander, chopped
salt flakes and freshly-milled black pepper
2 cups grated cheddar cheese
8 soft tortillas
3 cups passata sauce
1 cup sour cream
guacamole and salad, to serve
Instructions
1 Preheat oven to 180°C. Fry the beef mince in vegetable oil in a medium saucepan over a high heat for 5 minutes, until browned. Add the garlic and spices then cook for 3 more minutes. Mix in the rice and stock, then bring to a boil. Once simmering, turn the heat to low and cook for 10 minutes.
2 Add the capsicums, onion and corn and cook for a further 10 minutes, until the rice is plump and the liquid has been absorbed. Mix in the coriander and season with salt and pepper. Set aside to cool lightly, then stir in half the cheese.
3 Divide the beef mixture between the tortillas and roll up, then arrange in a baking dish. Top with the passata and remaining cheese, then dot with half the sour cream. Bake for 20 minutes, until golden on top, then serve with the remaining sour cream, guacamole and leaves.