Beef goulash with dumplings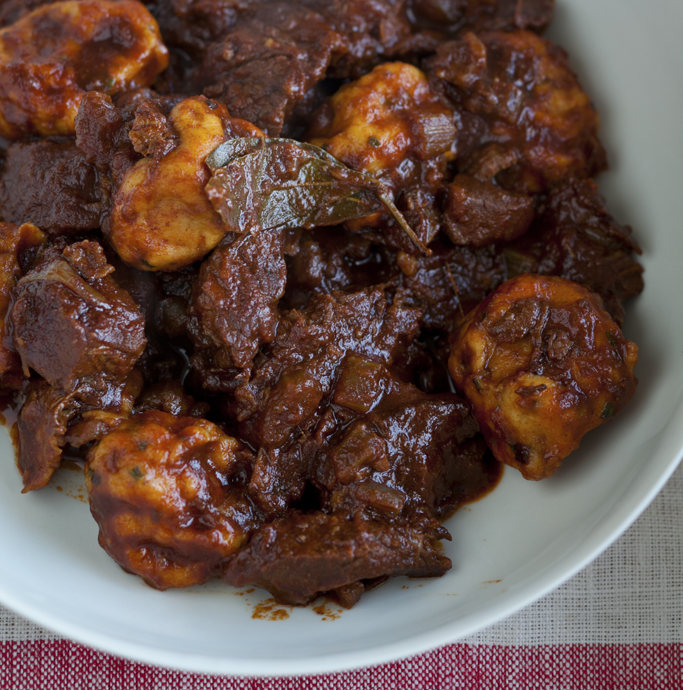 There are many versions of goulash throughout Hungary (and even into Romania). This recipe is from the plains region in the east of the country and is completely irresistible.
Ingredients
1.2kg beef chuck, diced in 2cm pieces
salt flakes and freshly-milled black pepper
2 Tbsp vegetable oil
2 white onions, sliced
2 bay leaves
6 cloves garlic, sliced
3 Tbsp sweet Hungarian paprika
1L beef stock
2 sticks celery, sliced
3 eggs
1½ cups plain flour
1 bunch chives, finely sliced
sour cream, to serve
Instructions
1 Season the beef generously with salt and pepper, then fry in vegetable oil in a medium saucepan over a moderate heat for 8 minutes, until well-browned. Add the onions, bay leaves and garlic, then continue cooking for another 5 minutes.
2 Mix in the paprika and stock and bring to a boil. Top up with water, if needed, then simmer for 1 hour over a low heat. Add the celery and simmer for another hour, until the beef is tender.
3 Beat the eggs, flour and chives, until smooth, then season with salt. Place teaspoons of the batter into the simmering goulash and cook for 7 minutes, stirring occasionally. Serve with sour cream.