Beef and guinness stew with potato champ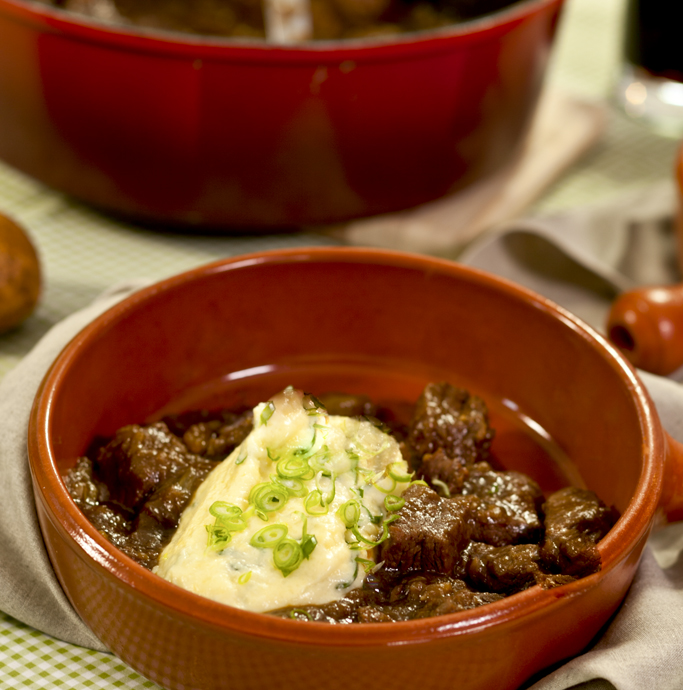 Guinness adds richness and depth to the beef, while champ is a great way of transforming ordinary mash into something more Irish and entertaining.
Ingredients
800g piece beef brisket
salt flakes and freshly-milled black pepper
125g unsalted butter
1 leek, cut into discs
2 sticks celery, chopped
3 medium parsnips peeled, cored and coarsely grated
3 garlic cloves, minced
1 Tbsp vegetable oil
400ml Guinness, or other stout
1L beef stock
1 Tbsp cornflour
4 medium potatoes, peeled
100ml cream
½ cup vintage tasty cheese
4 green shallots, finely sliced
Instructions
1 Season the brisket pieces generously with salt and pepper, then fry in half the butter, in a large saucepan set over a medium-high heat, for 5 minutes, until well-browned. Drain away the butter, then add the leek, celery, parsnips, 2 cloves garlic and vegetable oil. Cook for 10 minutes, stirring often, until lightly-browned.
2 Pour in the Guinness, bring to a boil, then simmer for 5 minutes. Add the stock and cover with a lid. Turn the heat to low and cook, turning the meat often for 1½ hours, until the beef is very tender, topping up with a little water as required. Dissolve the cornflour in 2 Tbsp water, add to the saucepan and simmer until thickened.
3 Steam the potatoes over a saucepan of simmering water until tender, then press through a fine sieve. Beat in the remaining butter, cream, garlic and cheese, then season with salt and fold in the shallots. Serve the stew with a spoon of champ.