BBQ Lamb Chops Za-atar with Amazing Salad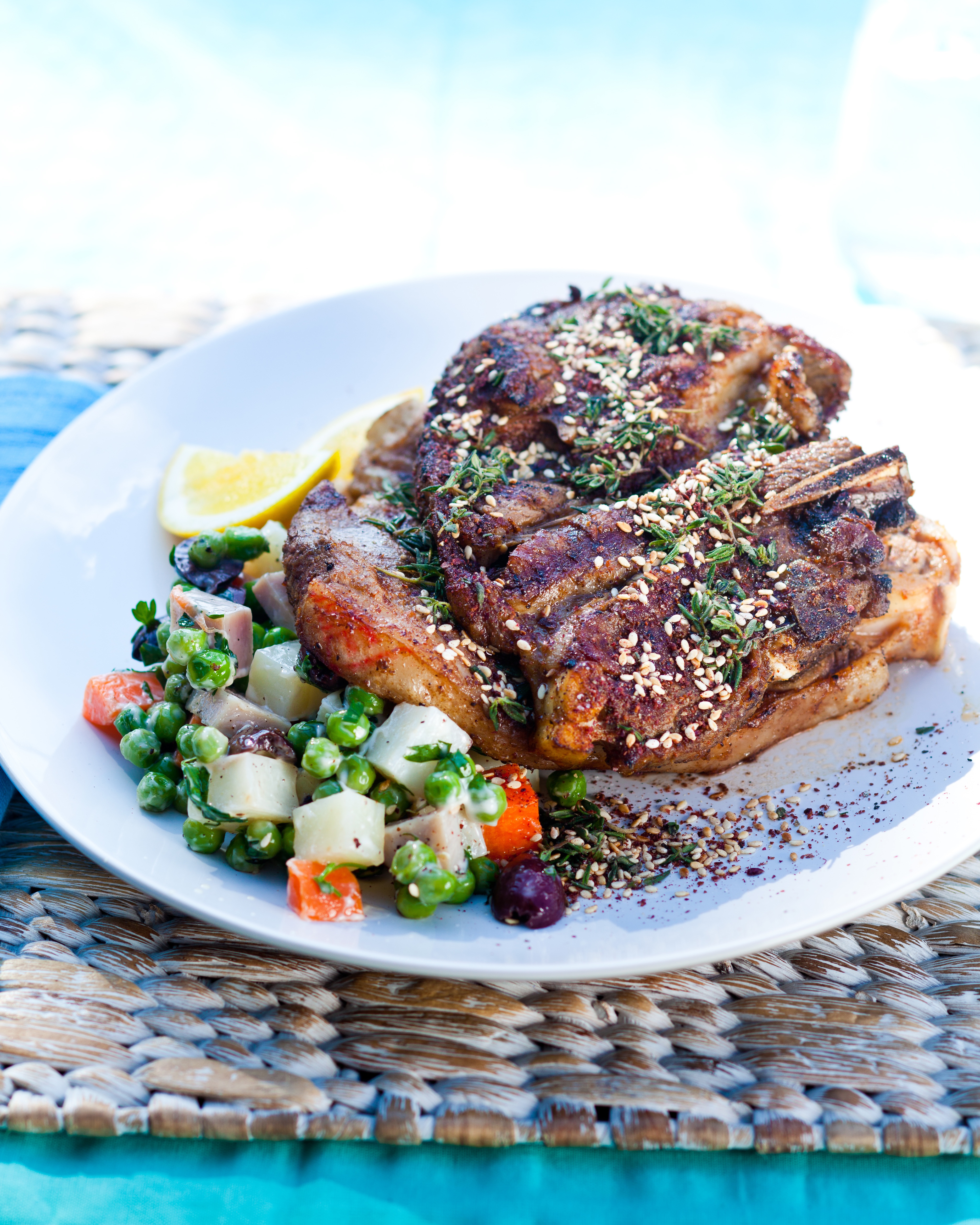 These delicious and succulent lamb chops are just perfect at any time of the year.
Ingredients
1 Tbsp sweet paprika
2 tsp ground cumin
¼ tsp ground cloves
¼ cup extra virgin olive oil
finely-grated zest and juice of 2 lemons
8 lamb forequarter chops
2 Tbsp sesame seeds, toasted
3 tsp sumac*
1 bunch thyme leaves
salt flakes and freshly-milled black pepper
2 medium carrots, diced
2 medium potatoes, diced
1 cup peas
½ cup black olives, halved
½ cup ham, diced
½ bunch parsley, chopped
¼ cup mayonnaise
potato salad, to serve
Instructions
1 Combine the paprika, cumin, cloves, oil and lemon zest in a bowl. Use a fork to pierce the lamb chops all over, then rub with the marinade and set aside for 1 hour. Meanwhile, combine the sesame seeds, sumac, thyme and a generous amount of salt in a bowl. Set aside.
2 Steam the carrots and potatoes until tender, then set aide to cool. Blanch the peas, then refresh until running water. Mix all together with the olives, ham, parsley and mayonnaise and season with salt and pepper.
3 Season the chops with salt and pepper, then cook on a hot barbecue grill for 5 minutes, turning often, until medium. Scatter the za-atar over the cooked chops and serve with the salad.
COOK'S NOTES: *Sumac is a bright purple lemony-tasting spice available from delicatessens, fine food shops, many greengrocers and online.