Bbq beef shortribs with lager gravy and jacket potatoes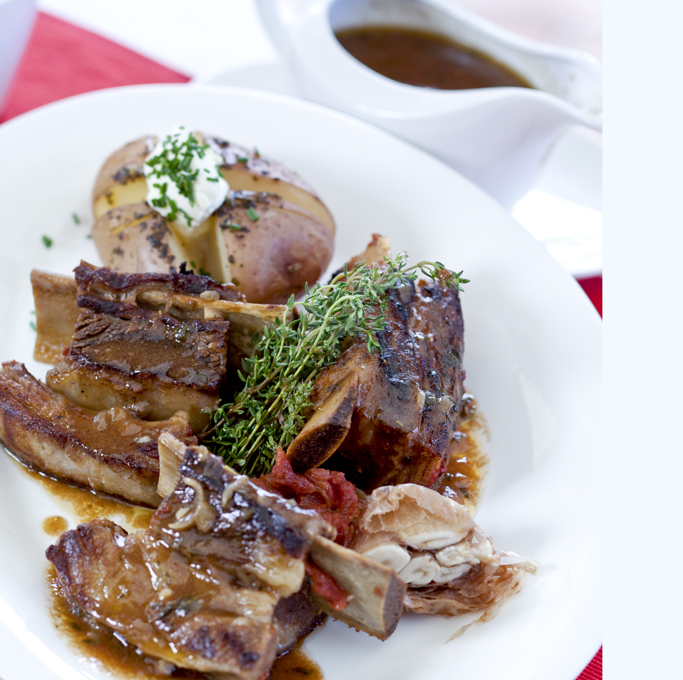 Beef ribs are big business in the USA, but most Aussie's haven't given them a crack yet. They're moist, big-flavoured and easy to prepare.
Ingredients
1.6kg beef short ribs
4 fresh bay leaves
2 heads garlic
1L beef stock
2 x 400g cans diced tomatoes
4 large potatoes
2 Tbsp unsalted butter
1 tsp dried oregano
salt flakes and freshly-milled black pepper
375ml lager
1 red onion, finely diced
½ bunch thyme, finely chopped
1 Tbsp extra virgin olive oil
1 Tbsp mustard powder
2 tsp brown sugar
1 Tbsp cornflour
cooking oil spray
sour cream and chives, to serve
Instructions
1 Preheat oven to 180°C. Combine the beef ribs, bay leaves garlic (reserving 4 cloves), stock and tomatoes in a large lidded pot and add water to cover the beef by 10cm. Set over a medium heat and simmer gently for 1½ hours, until the meat is tender. Set the meat aside, reserving the liquid.
2 Meanwhile cut a cross in the top of the potatoes and press in the butter and oregano, season with salt and pepper. Wrap in a double layer of foil and place in a roasting pan cut side up and bake for 1½ hours, until tender.
3 Strain 1L of the beef braising liquid into a medium saucepan and set over a high heat. Bring to a boil, then add the lager. Reduce to 500ml.
4 Sauté the onion, minced reserved garlic and thyme in olive oil in a medium saucepan for 5 minutes, until just softened, then pour in the lager mixture, mustard powder and sugar. Dissolve the cornflour in 2 Tbsp water then whisk in and simmer until thickened. Season with salt and pepper.
5 Sprinkle the beef with cooking oil spray and cook on a hot barbecue grill for 4 minutes each side, until lightly blackened, then serve with jacket potatoes, lager gravy, sour cream and chives.