Basil-scented salmon with fish crackling and bitter leaves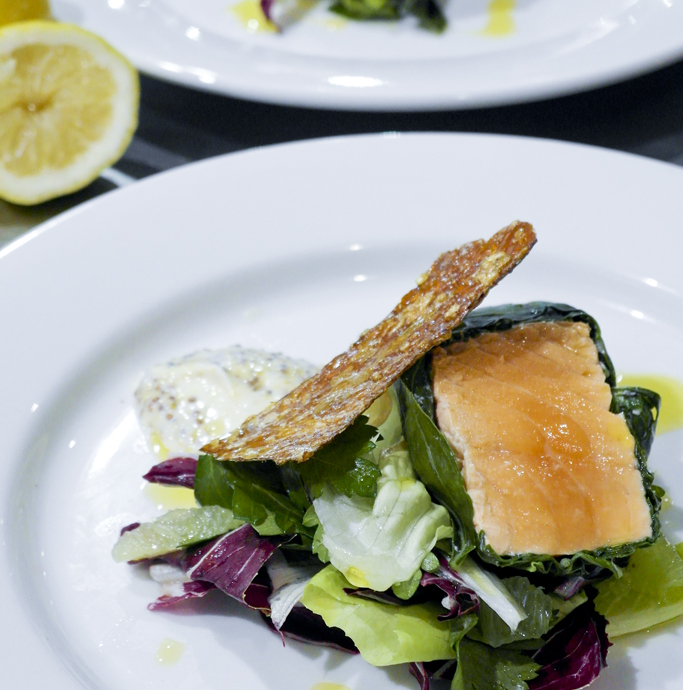 Fish crackling, yep, you'd better believe it! Beautiful combination of flavour and texture.
Ingredients
4 x 160g boneless salmon fillets, centre-cut
salt flakes and freshly-milled black pepper
1 tsp ground fennel seed
2 bunches basil leaves
1 head witlof, torn
¼ head radicchio, torn
1 head baby fennel, finely shaved
¼ bunch parsley leaves, torn
2 limes, peeled and segmented
1 Tbsp extra virgin olive oil
2 Tbsp aioli
1 tsp seeded mustard
lemon wedges, to serve
Instructions
1 Preheat oven to 180°C. Use a sharp knife to remove the skin from the salmon. Pat the skin dry, season with salt and pepper, and sandwich between two oven trays with on-stick baking paper. Bake for 20 minutes, until crisp, then set aside to cool.
2 Blanch the basil leaves in boiling water until just wilted, then refresh in iced water. Season the fish fillets with salt and pepper, then wrap each in basil leaves. Wrap each fish parcel in cling film, sealing tightly, then arrange in a steamer basket and cook over a saucepan of barely simmering water. The salmon should take 10 minutes to reach medium.
3 Toss the witlof, radicchio, parsley and limes n a bowl and drizzle with olive oil. Mix the aioli and mustard. Unwrap the salmon pieces and serve with a pile of bitter leaf salad, a piece of fish crackling and a spoon of mustard aioli.