Barszcz (hungarian beetroot soup)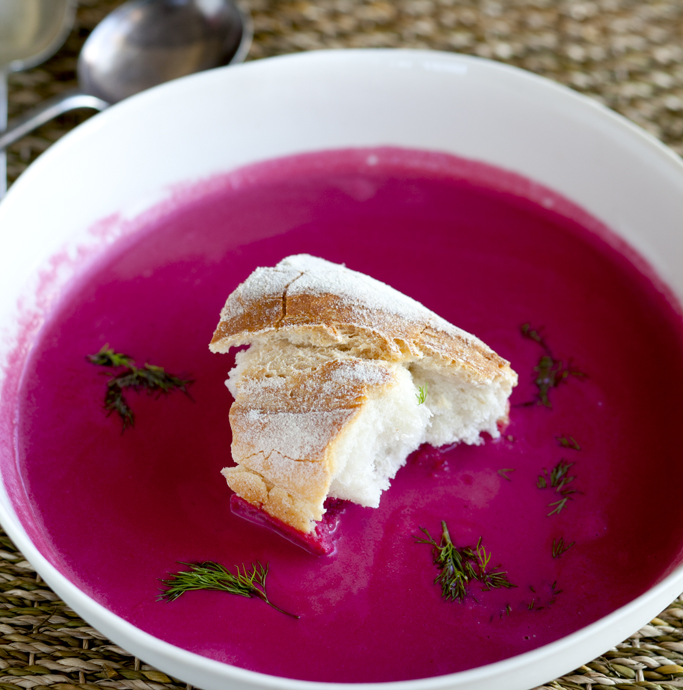 Oh yes, here's a soup that will brighten your day and warm you from head to toe. Sweet and earthy beetroot, rich and salty bacon bone flavour and incredible colour make this soup one of my favourites. Fill your belly with this and you'll be blissfully blushing beetroot all week long!
Ingredients
1.4kg beetroot
300g smoked bacon bones
3½ L water
2½ Tbsp caster sugar
1½ Tbsp apple cider vinegar
salt flakes and freshly-milled black pepper
2 tsp unsalted butter, softened
1½ Tbsp plain flour
¾ cup sour cream
crusty bread and dill, to serve
Instructions
1 Peel the beetroot and coarsely grate them. Combine the grated beetroot in a large saucepan with the smoked bacon bones and water. Set over a moderate heat and bring to a high simmer. Cook for 45 minutes, then mix in the sugar and vinegar. Season with salt and pepper.
2 Strain the soup into a second saucepan ad set over a low heat. Whisk the butter, flour and sour cream in a small bowl, then whisk into the simmering soup and cook for 10 minutes. Serve with crusty bread and dill.