Barbecued turkey with tomato and onion sauce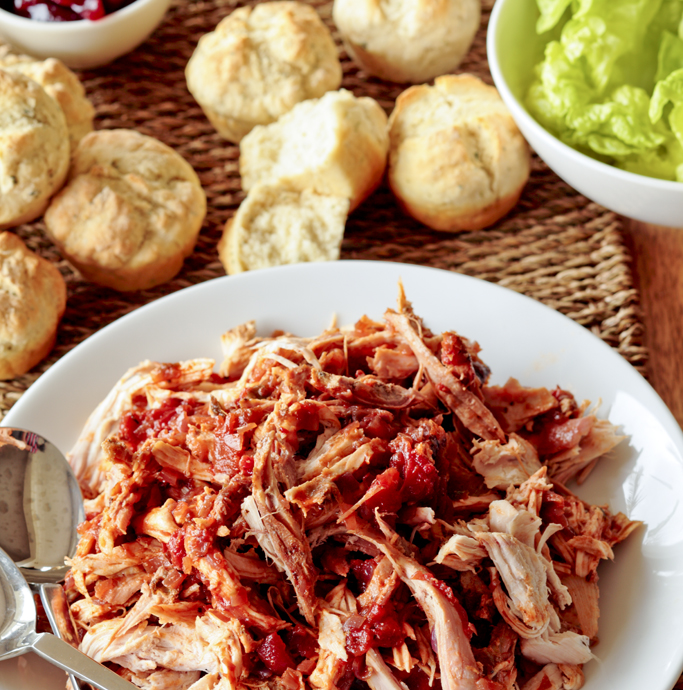 Cooking a whole roast turkey is an invitation for trouble. All too often, no matter how good a cook you are, things g off the rails. So I've come up with a super-easy, extra-quick version of the Xmas turkey that will impress even the toughest critic, while saving you time and helping you to actually enjoy the big day.
Ingredients
#55 turkey (5½ kg)
salt flakes and freshly-milled black pepper
¼ cup extra virgin olive oil
½ bunch thyme
1L chicken stock
2 red onions, finely diced
4 cloves garlic, minced
400g can diced tomatoes
2 Tbsp cider vinegar
2 Tbsp dark brown sugar
2 tsp Worcestershire sauce
Instructions
1 Preheat barbecue grill to medium-high and the griddle to low. Use a sharp knife to cut the bird into four pieces (supremes and marylands). Season generously with salt and pepper and rub with half the olive oil.
2 Sear the marylands on the grill for 10 minutes, turning several times, until well-browned. Transfer to a roasting pan with the thyme and set over the griddle, drizzling with ¼ of the stock. Sear the breasts on the grill for 10 minutes, turning often, until well browned. Place in the roasting pan and cook for 1½ hours, basting often with the remaining stock.
3 Sauté the onion and garlic in the remaining olive oil for 5 minutes over a low heat in a medium saucepan until well-softened, then pour in the tomatoes, vinegar, sugar and Worcestershire sauce. Simmer for 10 minutes, then set aside.
4 Once the turkey is cooked to 82°C in the thigh and 78°C in the breast remove from the heat and shred roughly. Mix with the sauce and serve. Serve with milk-thyme damper rolls