Barbecued steak with chorizo salsa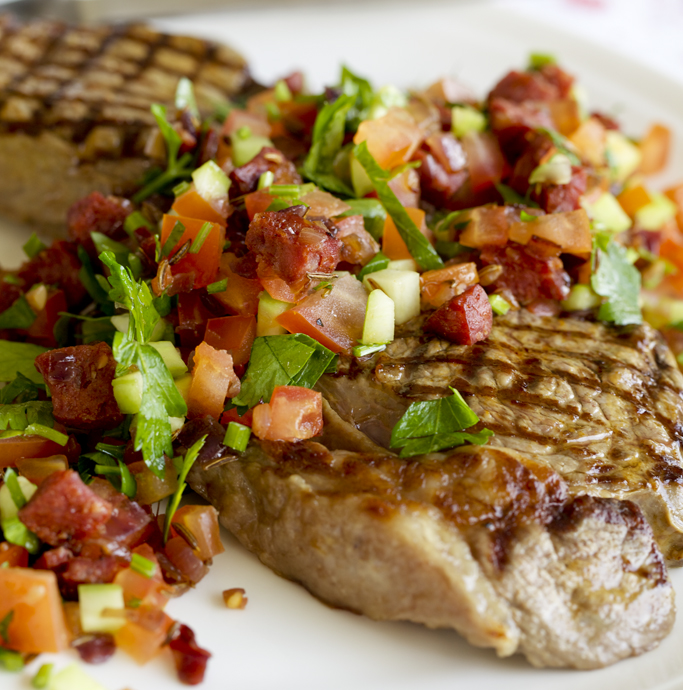 Steak and chorizo salsa, a perfect match! Don't forget the lemon and chilli sauce.
Ingredients
1 chorizo sausage, diced
2 Tbsp extra virgin olive oil
2 red onions, diced
5 cloves garlic, sliced
¼ bunch thyme, chopped
½ tsp caraway seeds
2 tomatoes, seeded and diced
½ Lebanese cucumber, seeded and diced
4 x 180g rump steaks
salt flakes and freshly-milled black pepper
lemon wedges and chilli sauce, to serve
Instructions
1 Fry the chorizo pieces in half the olive oil in a medium saucepan over a moderate heat for 5 minutes, until well-browned. Add the onion and cook for another 5 minutes.
2 Mix in the garlic, thyme and caraway seeds, cook for 5 minutes until aromatic, then remove from the heat and stir in the tomatoes and cucumber.
3 Brush the steaks with the remaining olive oil and season generously with salt and pepper. Cook on a hot barbecue grill for 4 minutes each side, until medium, then rest for 2 minutes. Serve top with the salsa, and with lemon wedges and chilli sauce.