Barbecued lamb chops with simple spice rub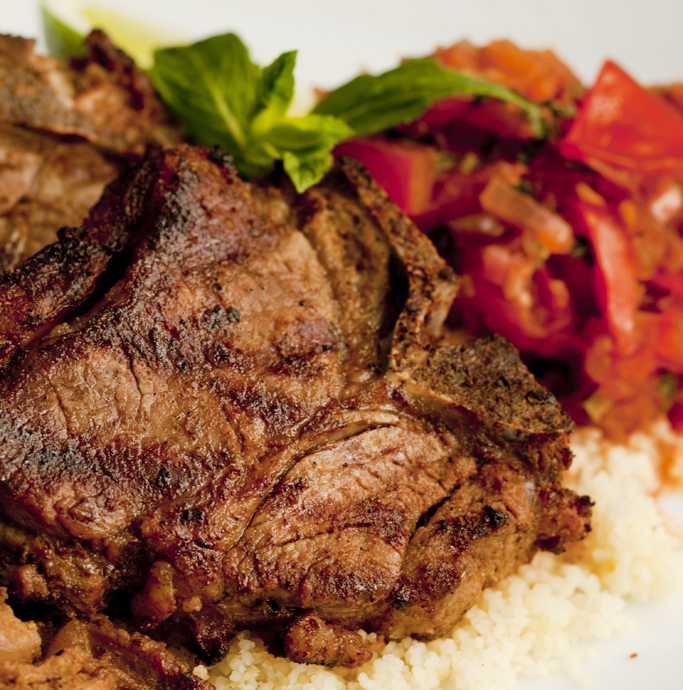 Looking for inspiration for that great weeknight meal that is ready in minutes and really delivers a tasty result. Well, these simple lamb chops on the barbecue are just the ticket, with a delicious easy flavour that even the little kids will love.
Ingredients
8 lamb loin chops
2 tsp ground cumin
1 tsp ground coriander seed
2 Tbsp extra virgin olive oil
juice of 1 lime
salt flakes and freshly-milled black pepper
1 cup couscous
4 cloves garlic, minced
1 cup chicken stock
1 sprig rosemary, finely chopped
4 ripe tomatoes, chopped
1 red onion, finely chopped
1 tsp brown sugar
2 tsp Worcestershire sauce
½ bunch mint, finely chopped
Instructions
1 Combine the chops, cumin, coriander, half the olive oil and lime juice in a bowl and set aside for 10 minutes. Season with salt and pepper, then cook on a hot barbecue grill for 4 minutes each side, until medium.
2 Meanwhile combine the couscous, half the garlic, chicken stock and rosemary in a small saucepan and mix well. Set over a low heat and cook, stirring often, until all the liquid has absorbed and the couscous is light and fluffy. Season with salt.
3 Mix the tomatoes, onion, remaining garlic, sugar and Worcestershire sauce in a small roasting pan and set over the barbecue grill. Cook, stirring often, for 7 minutes, until the tomatoes soften. Stir in the mint and season with salt and pepper.
4 Serve the chops on a bed of couscous, topped with the tomato mixture.