Baked Ocean Trout Fillet with Pomegranate, Lime and Ginger Glaze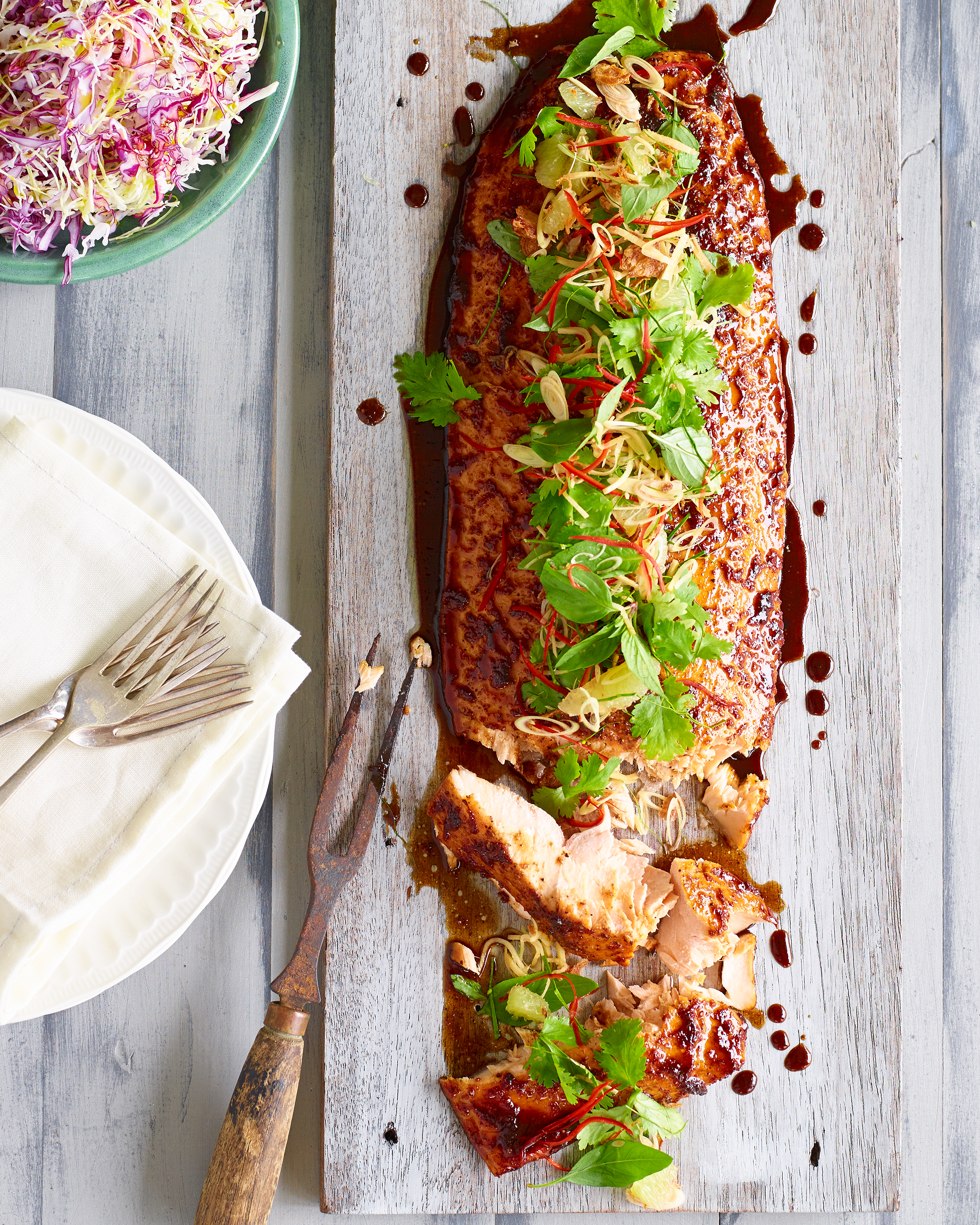 Fresh and zesty flavours are perfect for ocean trout.
Ingredients
800g skinless ocean trout fillet, all bones removed
sea salt flakes and freshly-milled black pepper
¼ cup pomegranate molasses
8cm piece ginger
4 limes
½ cup vermouth
1 tsp bitters
4 Kaffir lime leaves, very finely sliced
1 long red chilli, finely diced
1 stick lemongrass, very finely sliced
2 Tbsp fried shallots
½ bunch coriander leaves
½ bunch Thai basil leaves
1 cup Savoy cabbage, very finely sliced
1 cup red cabbage, very finely sliced
2 tsp apple cider vinegar
2 tsp avocado oil
1 tsp golden caster sugar
Instructions
1 Preheat oven to 200°C. Season the ocean trout with salt and pepper and arrange on a lined oven tray. Pour the pomegranate molasses into a small saucepan. Finely grate half the ginger and squeeze half the limes, then add to the saucepan with the vermouth and bitters Set over a moderate heat and simmer until thickened.
2 Bake the trout for 10 minutes, then baste with the pomegranate mixture. Bake for 5 minutes, then baste again. Bake for a further 5 minutes, bake for a final 5 minutes.
3 Cut the remaining ginger into fine batons and segment the remaining lines. Toss with the lime leaves, chilli, lemongrass, shallots and herbs. Scatter over the fish.
4 Toss the cabbage with the vinegar, oil and sugar, then season generously with salt and pepper.