Bacon and goats cheese frittata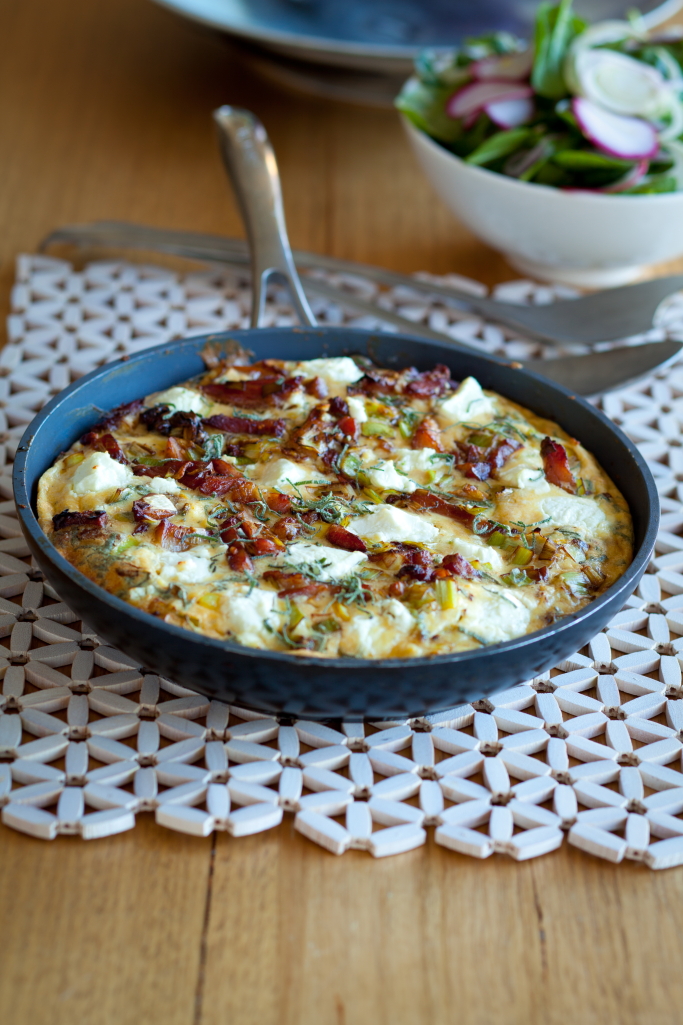 When the family is gagging for a meal, and I really feel like there's nothing to eat, I usually turn to a frittata. But in this case, I make it with my two favourite ingredients - bacon and goats cheese....mmmmm, salty goodness!
Ingredients
4 rashers thick-cut bacon (250g), cut into strips
1 medium leek (150g), diced
2 cloves garlic, minced
6 eggs
200ml cream
55g (½ cup) finely grated parmesan cheese
12 sage leaves, finely sliced
salt and ground white pepper
70g goats cheese, crumbled
spinach and fennel salad, to serve
Instructions
1 Preheat oven to 180°C. Set a 25cm non-stick oven-proof frying pan over a moderate heat and sauté the bacon for 7 minutes, until well-browned. Add the leek and garlic and cook for another 3 minutes, until the leek is softened.
2 Combine the eggs, cream, parmesan and sage in a bowl and whisk until smooth. Season generously with salt and ground white pepper. Pour into the bacon mixture and reduce the heat to low.
3 Cook, stirring often for 3 minutes, until the egg mixture is just beginning to thicken, then arrange the goats cheese on top and transfer to the oven. Bake for 10 minutes, until firm and golden on the edges. Serve with a spinach and fennel salad.