Almond sponge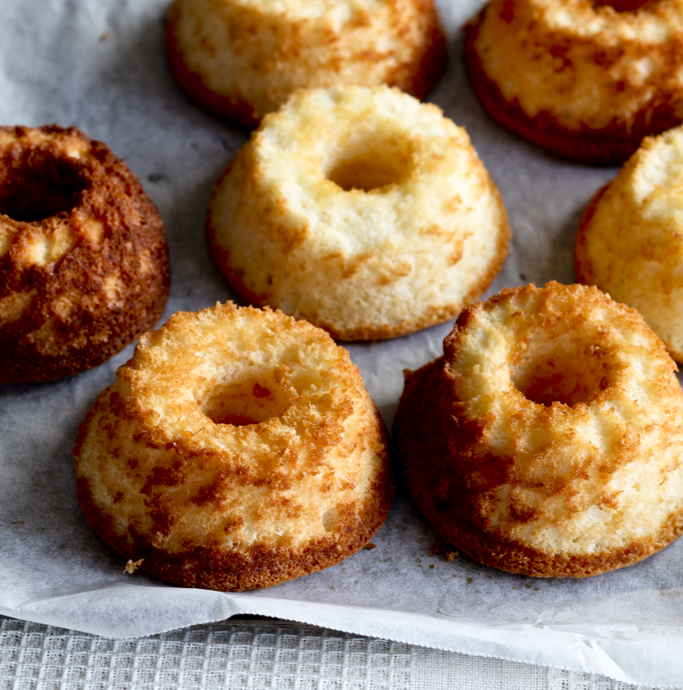 Beautifully light and almond flavoured, these little sponge cakes are a perfect afternoon tea delight.
Ingredients
2 egg whites
300g marzipan, crumbled
1 tsp almond essence
12 eggs separated
280g caster sugar
1 tsp natural vanilla extract
½ tsp cream of tartar
200g plain flour
Instructions
1 Preheat oven to 180°C. Combine the egg whites, marzipan and almond essence in a bowl and whisk until very smooth, then set aside.
2 Combine the egg yolks, 80g caster sugar and vanilla extract in the bowl of an electric mixer and beat with the whisk attachment on high speed for 10 minutes, until very light an a firm foam has formed.
3 Mix ¼ of the yolk mixture into the marzipan mixture, then gently fold in the rest.
4 Whisk the egg whites and cream of tartar to soft peaks, then add the remaining sugar 1 Tbsp at a time, while whisking to firm peaks. Fold gently into the yolk mixture, then sift the flour on top. Fold gently until smooth, then spoon into two lined 24cm cake tins (or cupcake moulds) and bake for 25-30 minutes, until firm to touch. Cool in the tin.