Almond, Pistachio and Watermelon Cake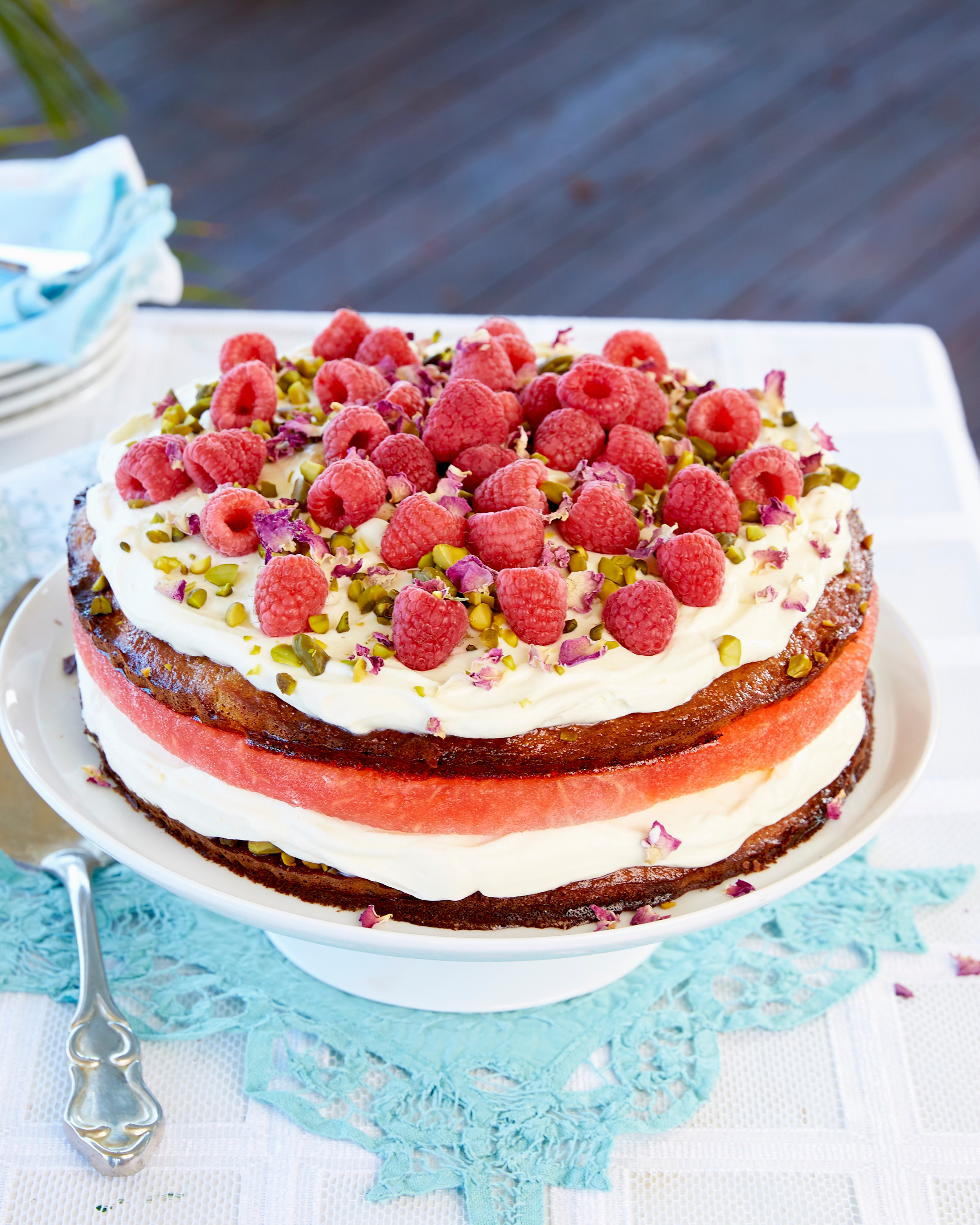 This cake looks beautiful and tastes even better. Here's an interesting and charming way to introduce more fruit into baking favourites.
Ingredients
1 large watermelon*
250g almond meal
1 tsp baking powder
1 tsp ground cinnamon
½ tsp ground cardamom
½ tsp fine salt
3 eggs
¾ cup honey
75g unsalted butter, melted
2 punnets raspberries
1 cup pistachios, roughly chopped
1 cup caster sugar
450g thickened cream
1 tsp vanilla paste
Instructions
1 Preheat oven to 160°C. Use a large sharp knife to cut a 1½cm thick disc of watermelon from its centre, then remove the skin. Mark a circle using a 22cm cake tin, then cut with s small sharp knife. Pat the watermelon dry with kitchen paper, then set aside. Roughly chop 3 cups of watermelon, a press through a sieve to juice.
2 Combine the almond meal, baking paper, spices and salt in a large bowl, then mix in the eggs, honey and butter. Stir until smooth, then fold in half the raspberries. Divide between two lined 22cm cake tine, scatter with half the pistachios, then bake for 20-25 minutes, until just firm.
3 Meanwhile, pour the watermelon juice and half the sugar into a small saucepan and boil until syrupy. Once the cake is baked, brush with the watermelon syrup, then set aside to cool completely.
4 Whip the cream and vanilla with the remaining sugar to stiff peaks, then spread half over one cake disc. Place the watermelon on top, then the second cake disc and the remaining cream. Garnish with the reserved raspberries and pistachios.